Wedding Cake
The tradition of wedding cake fans certainly attracts the attention of not only the lens photo and video cameras, but all present at this celebration. Removal of the wedding cake is the culmination of the feast, after which, treating the culinary masterpiece of pastry in a relaxed atmosphere, not by constraint, relatives and friends continue to communicate. Which are not only wedding cakes.
The design of this miracle of hard work and pastry chefs, trying to bring a sparkle of happiness and that it address all the splendor of a young couple that it will cut by applause and endless applause at the end of the banquet. How many pairs of so many cakes, each unique in its own way, it's not just external design, but also filling. Masters of the genre often caramel top of this dish is crowned with figures of the newlyweds, or animals,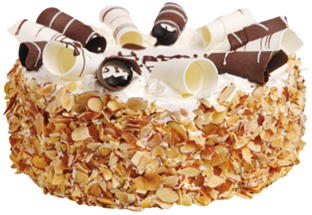 associating sweet and wonderful feelings of people join their hearts married to this wonderful day.
Cooks in the cooking process, taking into account all the suggestions for making the cake, try to take into account the taste preferences of young couples. Someone to taste Italian cakes with tight outer shell, baked separately, into which the next stages of preparing the filling will be placed. Otherwise the same - French cakes prepared on the basis of biscuit or puff pastry.
To date, all kinds of sweets can please a variety of cakes on the market of sand, Vienna, wafer, and even liquid. Can also be used as it treats a variety of cakes, when the number of visitors is large, and to please the taste preferences of each is not possible. As soon as today, the couple did not try to impress your guests at the wedding, trying to portray his passion and hobby into a caramel sculpture. This is a lesson in football and then a cake made in the form of a football field with the keeper of the bride or groom.
This golfers and tennis players, hockey players and basketball players, in general, everything that your heart desires capricious. The trend shokirovaniya guests at the wedding banquet everywhere gaining its momentum. This is reflected not only in the flamboyant staging a wedding dance, but when the hall endure cake. In the eyes of the astonished audience he accidentally upset, and so very impressionable Guests did not have enough hysteria to further demonstrate his dummy component and is in fact render the real, long-awaited and extremely beautiful crown of culinary skill - the wedding cake! Enjoy your appetite!